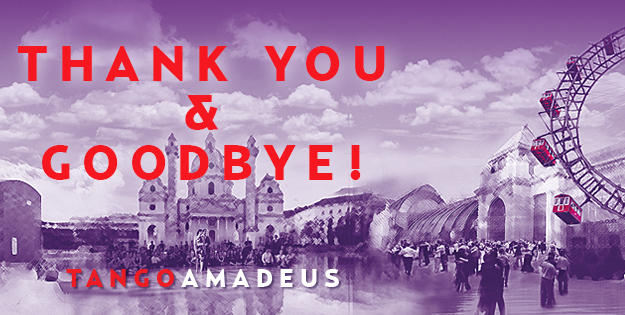 !! TANGOAMADEUS' 5th Birthday Party !!

Our online booking system is already closed.
Unfortunately we cannot take any reservations in advance!
There are just very few remaining tickets left so please understand that we cannot guarantee entrance for everyone!

MILONGA Tickets:
Remaining tickets for Wednesday and Thursday will be available at the evening door from Wednesday on.
Remaining tickets for Saturday will be available at the evening door from Friday on.
The Friday and Sunday Milongas are SOLD OUT.

TANGO CAFE Tickets:
Tickets for the afternoon Tango Cafés are available directly at the afternoon location each day.

WORKSHOPS:
For open places in Workshops, please see our Booking section.


TANGOAMADEUS, Vienna, May 7th - 11th, 2014

The TANGOAMADEUS team, our great Maestros, DJs and special guests

Magdalena Gutierrez & Horacio Godoy
Ariadna Naveira & Fernando Sanchez
Noelia Hurtado & Carlitos Espinoza

Florin Bilbiie
JeanPr De Tango
Bernhard Gehberger
Osky Casas
Christoph Lanner
Mihai Georgescu

Rita Caldas & Vasco Martins
Sonja Bruyninckx & Sven Breynaert
Paula Galimany & Martin Acosta

are looking forward to welcoming you to Vienna! Keeping our standards high and wanting the best for you, you can again be sure of foot-friendly wooden dancefloors, beautiful Viennese locations and great djs.

We are looking forward to seeing you!